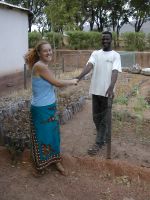 My friend N'tcha and I in Benin

I just got a letter from this friend of mine. I haven't heard from anyone from Benin in a while, aside from my directors there and my former roomate from the US, so it was very exciting for me. N'tcha is taking an agriculture course in Cotonou, on the coast of Benin, which is so exciting because he'll be able to come back to Tanguieta and help the villages!
Mmmm....Benin.....wonder if I'll find myself back there one day?